E-commerce systems are comprehensive software that allows companies to manage all operations related to the online sale of their products or services. E-commerce platforms create a centralized, digital hub for product and customer data, enabling e-commerce businesses to manage their product information, customize store content and layout, and process online transactions and payments. If you are new to e-commerce, these systems can help you make a good start. So what are these systems? Let's take a closer look together.
1. WooCommerce
WooCommerce is a plugin that easily integrates with your existing WordPress site and turns it into a fully functional WordPress e-commerce website with just a few clicks. Currently, over 99% of WordPress e-commerce websites in the US, Canada, and the UK use WooCommerce.
Since its introduction, one of the leading WordPress plugins, WooCommerce, has achieved great success. It has created and supported over 500,000 online stores worldwide. Statistics show that companies with 10-50 employees and revenues between $1 million and $10 million typically use WooCommerce (source). Most of these are small businesses, but large companies are also fairly represented.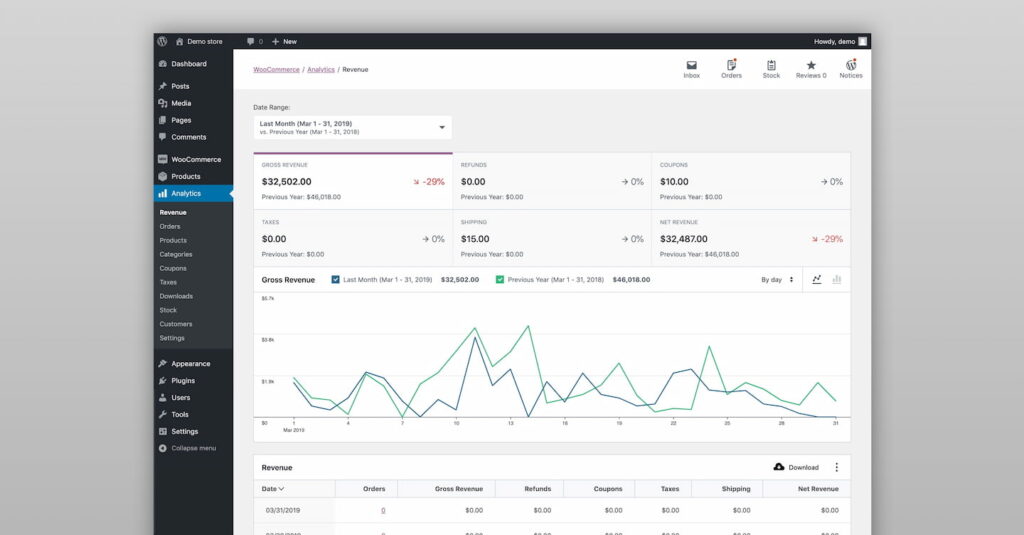 2. Shopify
Shopify is a subscription-based software that allows anyone to create an online store and sell their products. Store owners can also sell in physical locations using Shopify POS, a point-of-sale application and accompanying hardware. If you are a Shopify seller with both an online and physical presence, your inventory and stock are synchronized, so you can manage your stores from a single account on any device. To answer the question "What is Shopify?" correctly, it is important to understand that Shopify is not just a singular product. It is not just a store builder or a tool to sell your products. Shopify is a commerce platform that offers a way to quickly launch your dream business and start selling to customers wherever they are. If you want to customize your store or even build it from scratch, the Shopify App Store and APIs will make this easier for you.
3. Magento
Magento is an e-commerce platform that is based on PHP and the Zend Framework, uses the MySQL database, and has both open-source and paid/free versions. Being open-source, it is one of the most preferred e-commerce platforms among ready-made scripts, thanks to its flexibility, SEO optimization capabilities, and ease of management.
4. OpenCart
OpenCart is an open-source and free e-commerce platform designed for users who want to take their business online and start selling their products. Being open-source, it offers a customizable website infrastructure with a user-friendly interface, making it one of the most preferred ready-to-use scripts in the e-commerce industry. One of OpenCart's biggest advantages is its support for multiple languages, currencies, and tax types, allowing companies that want to engage in global trade to localize their online stores according to their needs.
In OpenCart, you can create multiple stores and manage them all with a single click. You can set products to appear with different prices in different stores and choose different themes for each store. It is easy to install, use, and develop, and you can easily customize the source code.
BONUS: Turkish Platforms
In addition to all these platforms, there are also some local e-commerce platforms available. These platforms can be a bit pricey, but with the right steps, success can be achieved with these systems as well. Some of these platforms include IDEASoft, TiciMax, T-Soft, and ProTicaret.
Which system are you using? What are the advantages and disadvantages of the system you are using? Please share your comments below. If you are just starting out, we can explore together the platform that best suits your brand's needs. Ripon Digital is just a click away!
---